There have been numerous articles the past few years about the retail apocalypse occurring across the United States. Already this year, almost 8,000 stores have announced that they will be closing their doors with projections to reach 12,000 doors by year end.[1] This will be the single largest net loss of retail stores over the past eight years.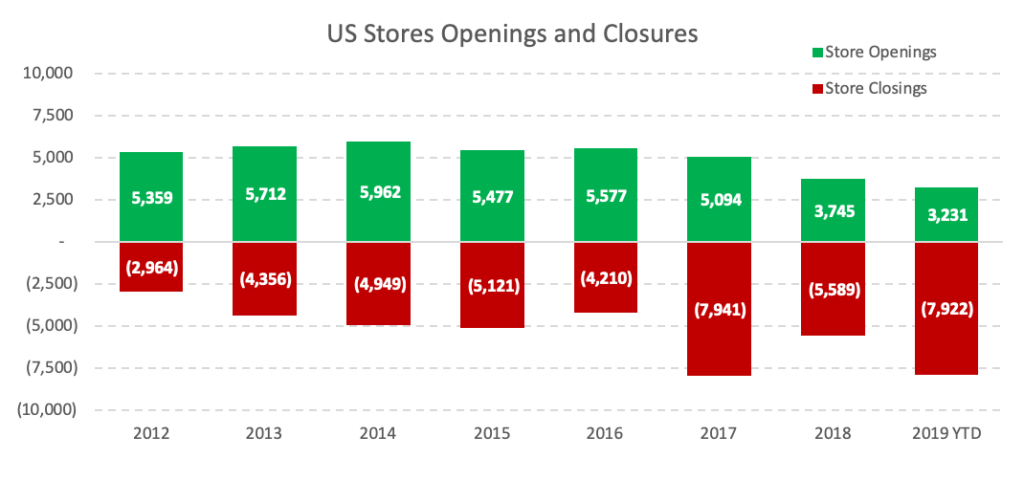 Despite many prognosticators promoting the end of the brick and mortar store, there are multiple examples of brands who are leveraging their physical and digital footprints to establish deeper, more meaningful relationships with their customers.  However, before we dive into the future, it's important to examine the key lessons from the past.
Oversupply + Little Differentiation = "SEA-OF-SAMENESS"
Moving back to the United States after living in Europe a few years, I was struck by how similar each shopping center looked, no matter what part of the country I was.  The sheer size of the US, access to cheap capital and heavy reliance on the automobile fueled a massive expansion of retail stores. Retailers could largely drive annual revenue increases by just opening up more and more doors. As of 2015, there was 5X more total retail space per capita that in France or the UK but only 50% higher sales/capita.
The rise of E-commerce, which has reached 35% of all US apparel sales last year [2], has only accelerated the inevitable demise of many venerable retailers, such as Kmart, Toys 'R Us and Payless Shoe Source as more doors chased the same customer with nearly the same product offering and in-store experience. This resulted in a "SEA – OF – SAMENESS.
Future of Brick and Mortar in the Digital Age
Rather than viewing their stores as a dinosaur, successful retailers are transforming their physical locations to create a deeper, more tactile experience than online-only experiences. Since omni channel customers purchase twice as often and spend more than single-channel customers[3], retailers will need to adopt three basics principles to ultimately survive in the US marketplace.
CREATE DIGITALLY CONNECTED JOURNEYS:  US retailers are investing millions of dollars annually to enable greater omnichannel integration, yet there remains a long way to go. Just over 25% of US retailers offer BOPIS (Buy online, pick up in store) and just over one-third provide ship from store capability[4].
Nike's new Innovation House in Shanghai and New York has heavily embedded digital in-store technology to provide consumers greater choice and ease in their shopping journey. Using the Nike App consumers are able to "Shop the Look", which places a mannequin's entire outfit in a virtual shopping cart.  "Scan to Try" allows the consumer reserve items to a fitting room of the consumer's choice.  "Instant Checkout" speeds up the payment process by allowing consumers to skip the line and buy their items through the Nike app.
EVOLVE FROM SELLING JUST PRODUCTS TO SELLING EXPERIENCE
It's not just millennials who are placing greater emphasis on experiences. Almost 75% of all Americans surveyed prioritize experience over products or things.[5] While this might seem threatening to many traditional retailers, some brands are expanding their offering to meet consumers where they are and ultimately, create a deeper relationship.
Recreational Equipment Inc (REI), the largest outdoor retailer and cooperative in the US is aggressively expanding its rental offering and used gear options. Knowing that can be intimidated about going into the outdoors, REI "sees the expanded rental and used gear program as keeping us moving towards a sustainable and accessible outdoor future by offering new model of access to great outdoor gear and apparel," stated Ben Steele, REI Chief Customer Officer.  Each rental occasion also offers REI 2 additional consumer touchpoints, one upon pick up and other when returning the gear. Each touchpoint gives REI the opportunity to not only sell additional products but also share its knowledge and passion for the outdoors.

EVOLVE THE SALES ASSOCIATE TO A SERVICE PARTNER
In an age where consumers have so many choices to spend their hard-earned money, the days of the inattentive or pushy salesperson are coming to an end.  Despite consumers reliance on smartphones through their shopping journey, their remains a need and a potential source of differentiation for stores to provide the compelling service.
In Nike's Innovation House, it's new EXPERT STUDIO is Nike's first dedicated floor to provide member-only experiences such as one-to-one appointments, access to exclusive products and the chance to create personalized products in its NIKE BY YOU STUDIO. Most of the luxury brands already offer an elevated level of service, due their high price points. Nike is providing a similar high-touch consumer experience and through its Nike App, segmented product strategy and in-store experience keep its move valuable customers in the Nike DTC ecosystem.
Not all brands in the crowded and competitive US marketplace are going to be able to make this transition and ultimately won't survive. While some past market leaders, like Sears and Toys R' Us, have unsuccessfully been able to pivot their business model, this does not mean that brick and mortar retail is dead in the US. Strengthening their omnichannel integration and creating experiences that are meaningful to their most valuable customers are critical steps for all retailers to consider as they try to thrive in a very competitive and tumultuous marketplace in the United States.
---